Labels, Label Printers & Thermal Printers
Comgraphx is the #1 supplier of service labels and label printers to the automotive industry. We also print labels for products of all kinds.
Leaders in Labels and Label Printing

Label Design
Design your own label with the help of our experienced graphic design staff. Our team of expert graphic designers is one of the best in the industry and will partner with you to create a design that delivers your message and generates excitement.
Label Printers & Thermal Printers
Our user friendly and reliable reminder label printing systems are guaranteed to provide professional printed labels that won't fade or smear. We have the only label printing system specifically designed for the fast-lube industry.  Our printer formats allow  flexibility in messaging and cross-selling of services on labels.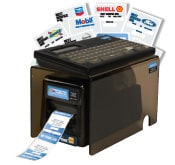 Comgraphx generic labels are designed to be used in any of the following thermal printers: SmartPrint™, PennzPrint, Q-Print, ShellPrint, DelSol, Solus, Solus II, Sage Blaster, and Autodata Blaster.
Or, design your own custom label with the help of our experienced design staff, to fit ANY thermal printer. If you still prefer handwriting the date and mileage on the label, each decal includes an area that will accept ink or permanent marker.