Buying mass quantities of stickers is not your everyday office water cooler talk. For that reason, it's no wonder there's a lot of confusion among buyers and marketers over expectations, outdoor print process, turn times, and price. Whether it's a new product roll-out or a new marketing initiative, bulk stickers are surely a large ticket item for your company or brand, and you should be well-educated going into the purchase.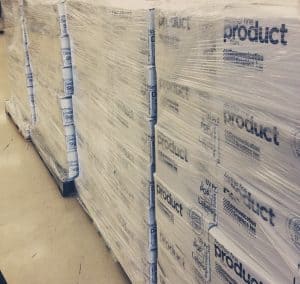 Have A Plan To Use The High Volume of Stickers
Every great purchase starts out with a great plan, right? The last thing you want to do is have a closet full of old, unused vinyl decals, collecting dust and serving as a hiding spot for your closet spiders. If your plan is to hand them out at trade-shows or customer events, that's great! But, think of some more options too. Consider including a sticker with every purchase. Or drop one in customer's bags at checkout. Stickers are a great, fun, and inexpensive product that when used effectively, can help grow your brand.
The Higher The Quantity, The Lower The Cost Per Sticker
The price per sticker should drop dramatically as your quantities increase. This is because the cost of manufacturing is heavily geared towards the initial setup cost. As the sticker run increases, the initial fixed cost is more easily spread across the production run, thereby dropping the cost of the product.
It's common for online sticker printers to have a somewhat fixed cost for higher quantity orders. This is because online sticker printers only have digital printing capabilities, which is not meant for high-quantity stickers and decals. Therefore, they don't gain an efficiency and the quantities increase, and as a result, your price stays the same.
Don't Assume All Suppliers Have The Same Cost
Cost when it comes to stickers is not equal among all suppliers. Just like most products, you should do your homework to make sure you're getting a fair price for your marketing budget. A
Ask To See A Printed Sample
Have you ever picked out a paint color for your upcoming house remodel, only to find out the nice, light gray color you chose looks baby blue when hit with sunlight? If you asked for a paint sample before repainting the entire house, this isn't such a big deal; you simply pick a new color. But, if you already painted the entire house before you realized your mistake, that's an issue.
Buying high-quantity custom manufactured stickers are very similar. Ask your vendor for a sample before starting production so you can make sure everything looks perfect. Even if your designer picked a Pantone matching color to go perfectly with your new logo, it's a good idea to make sure the stickers turn out as expected.
What Is The Best Process for High-Quantity Stickers?
The answer to this question depends on your usage. For most people, bulk stickers are intended for outdoor usage. If that's the same, the print process becomes a critically important decision. The only print process with a guaranteed outdoor longevity of 5 years is screen printing. While some manufacturing methods such as flexo and offset might produce a bulk product in a quick manner, they do not put down enough ink to get the desired longevity. Ask your vendor for screen printing!
Be Careful With Overseas Suppliers
While it can be tempting to check into overseas options, this comes with a risk. Because there are so many factors that go into making a high quality, long-lasting outdoor sticker, the chances of experiencing a translation error skyrocket. While many overseas purchases start out with a good intention, in many cases the final product doesn't meet expectations. For that reason, your company or brand should seriously consider domestic options before hitting the high seas.
Happy Sticker Buying!
If you have any questions regarding bulk stickers, we would love to help you! Reach out to us via email at info@comgraphx.com or by phone at 918-258-6502!