Custom push pull door stickers are the perfect way to advertise your brand or product. These graphics are placed on the retail door in a high traffic environment. By applying a door strike decal right next to the door handle, your product is guaranteed to get noticed at the most important opportune time.
These graphics are meant for short-term or long-term use on the inside or outside of retail windows. 
Get a quote in 30 minutes
Next: Upload Artwork If Available
Feel Confident About Your Door Strikes
Available on a rigid plastic material that offers the ability to print on the front and the back, these stickers will catch potential customer's attention and draw awareness to your brand. 
Need help with kitting and packaging? We can kit together your various retail graphics products and distribute to your stores or warehouses on your behalf. Include other items in the kit for a complete dealer kit. 
Why you should try a door strike this year
It can be challenging to come up with a new POP marketing idea each quarter.
How do you keep it interesting when you send the same products each year? How do you guarantee your brand or product graphics will be used by your authorized dealers?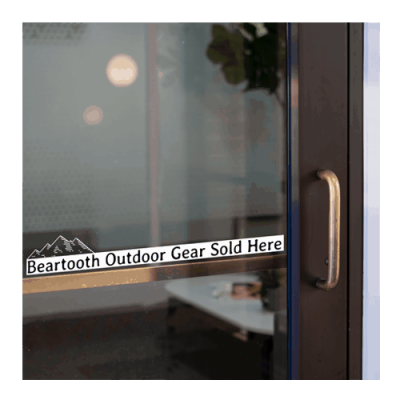 These real concerns for product marketers and we believe a door graphic decal can be the answer. Here's a few reasons why door strikes make sense this year:
With a retail door sticker, your product will be front and center in the highest traffic point of the store.
Because door strikes aren't used very often, your product won't be competing with your competitor's graphics for use.
Door strikes can be created with a double-sided material for a cool and unique look. Plus – you get twice as many impressions!
Similar products to door strikes